Kylo
All seedboxes include a complimentary VPN service in order to be able to browse the web anonymously. All you need is a VPN client installed and configured in order to establish a secure and encrypted connection to our servers. After a successful connection, all your pc traffic will be encrypted and tunneled via our servers to the web. This results in actually using our server's IP to browse the web, instead of yours.
Please note that with this way you forward ALL your pc's traffic through the tunnel. This might slow down your PC, if you use it for other purposes other than browsing. If you just want to tunnel your browser traffic, while all other applications have normal access to the Internet, please try this instead.
Supported VPN protocols and clients
The easiest way to use our VPN service, is to download the Seedboxes VPN app, available for Windows and MacOSX. It is the simplest and most elegant way to be able to switch among different servers and countries, just with a click of a button.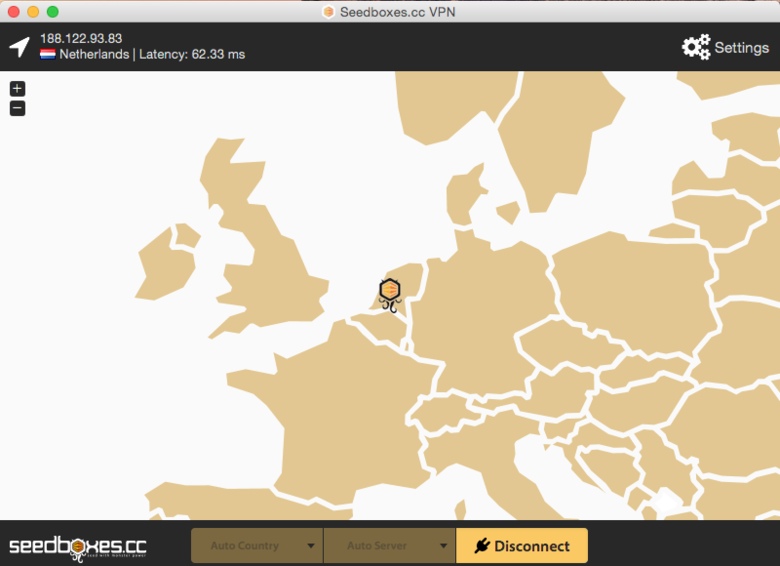 In order to download our VPN client, please use the following links:
If you don't want to use our own branded vpn app, you can use any other vpn software that works with the vpn protocols that we support
We support the following vpn protocols by default, on all our servers:
SoftEtherVPN client on TCP port 445
OpenVPN client both TCP and UDP on port 1194
L2TP over IPSEC (for Mac, iOS, Android, Windows)
In General
All the certificates and configuration files you will need can be downloaded with 1 click, from within your client area.
Login to your client area.
After you log in to your seedbox account, click in the "My Client Area" button.
In your dashboard, click "Manage Seedbox".
Scroll down a bit and navigate to the "VPN" tab of your seedbox.
Detailed instructions per Operating System
Please click on the links below, depending on your Operating system for detailed instructions on how to setup your VPN connection: